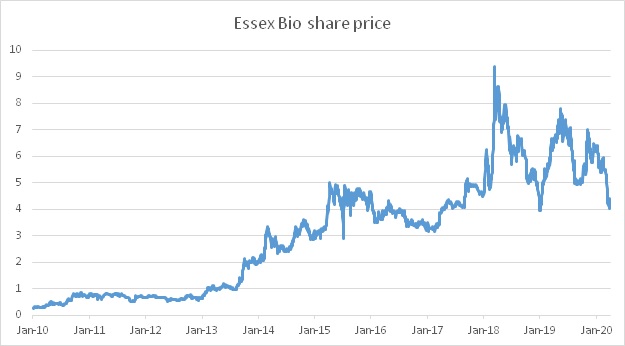 + Silly low valuation at P/E 8 (net cash) given the companies track record of profitable growth.
+ A number of own developed patented products in the market selling at good margins, with large market share in China.
+ Founder led for 20+ years, building this company from scratch.
+/- Using much of it's cash flow for investments in products from other research teams instead of dividends or share buybacks, which to me is still a negative. On the other hand the products are related to the companies own core business so the investments makes sense.
– The founders are running a real estate company listed in Singapore as well. It does not seem to be doing very well lately (hotels in Japan).
– A fair chunk of revenue is dependent on a distribution contract with Pfizer, which is expiring in 2021. It has been rolled multiple times since 2014, but its still an unknown.
Background
In the early 1990s, most Chinese pharmaceutical companies were focused on manufacturing generics. Essex instead pioneered the use of recombinant DNA technology (a process that involves molecular cloning of DNA from any species) to develop their own unique series of biologics. The company has obtained seven patents for drugs developed using recombinant DNA technology in China. The company enjoys more almost 60 percent market share in its niche areas (eye products). The high market share is largely explained by their very competitive pricing. For example, its Beifuji spray for treating burns and skin ulcers sells for $5 per 15ml bottle. By comparison, a 2.5ml bottle of Regranex, a widely-used spray for treating wounds and ulcers, sells for $74. The company's products are used in more than 4,500 hospitals across China. Although Essex never explains it as such, my interpretation is that these products are like an advanced form of generics, which enjoys higher margins than simple generic pills.
The company listed all way back in 2001 and for many years grew revenue slowly of a very low base. The company disposed of an agriculture related business in 2009 and has since then developed in it's current form. I therefore focus on the history of the company since 2010.
Some of the background story is taken from this article: Essex Bio — Bringing Pharmaceutical Innovation to China
Core products
Essex core products Beifushu series of drops and gels to treat eye injuries, dry eyes, refractive and cataract surgery, and the Beifuji series of sprays and powders to treat surface wounds, including burns, ulcers, and cosmetic plastic surgery. They also make Beifuxin, a gel that repairs and regenerates cells damaged by bruises, burns, contusions, cuts, surgery incisions, skin grafts, skin resurfacing, laser therapy wounds, bedsores, fistulas, and cervical erosions. The products are patent protected until 2030 in China. Essex also undertakes exclusive distribution in China of third party products that complement its area of focuses. Major third party products distributed are Pfizer's eye products Xalatan and Xalacom, Iodized Lecithin Capsules for treating various eye diseases and Yi Xue An Granules for treating bleeding or spotting of uterus after induced abortion. Below is a picture of the products: