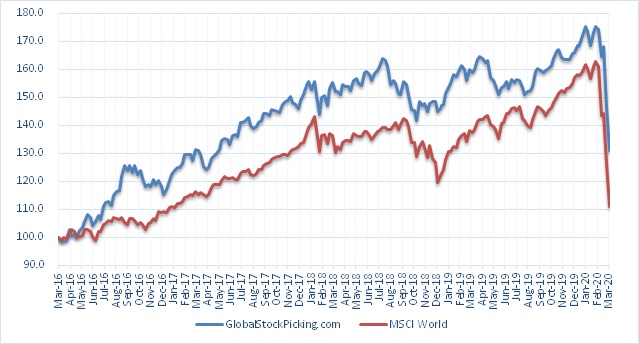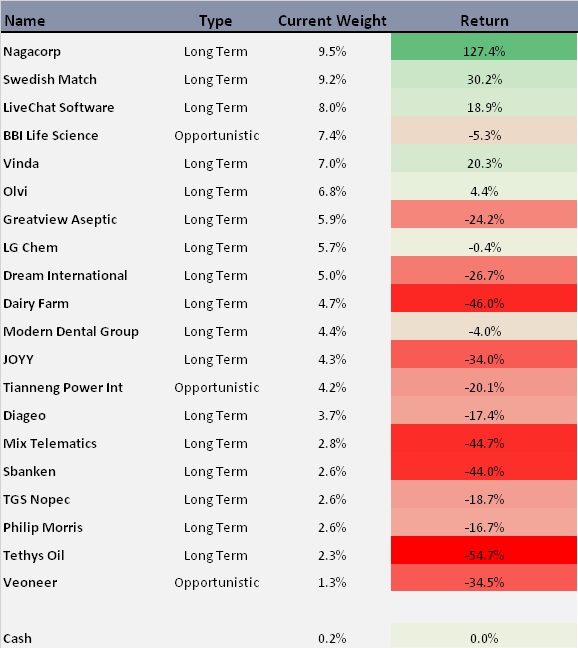 My portfolio has dropped -22% year to date and it's been a struggle how to position myself in this type of market. This still compares fairly well to MSCI World which is down -30% YTD, both calculated in USD. Talking about USD, the currency moves we have seen lately has been out of this world. I have a few holdings in NOK and SEK, in the last three weeks USD strengthened 25% vs NOK and 8% vs SEK. This means that my portfolio calculated in NOK is actually UP year to date! Such moves are way to big to ignore and must be incorporated in the analysis of the company you are buying, especially if the companies income is in USD. And then we have the oil, here I feel a bit unlucky buying into my first oil investment since I started the blog just before this epic double whammy of Corona scare and Saudi/Russia oil price war. A bit more on that later. Oil is important, but the big one has of course been the spread of the virus and lock downs around the world. First of all, I think it has been a process for all of us investors to come to grips with this. What does this all mean for my holdings and the economy? I had a head-start given I had closely followed this situation in China before most investors barely looked at it. Even with a head-start it has not been easy. Question like should I re-balance my portfolio when one holding drops unreasonably much compared to another, pops up for me on a daily basis. It's very easy to over trade in this type of market. I will do a new quick review of all my holdings from a corona perspective. Debt levels for example become more important (I have usually been careful with this). First a few more Corona thoughts..
Further virus thoughts
First I want to say, you are probably pretty tired of reading about virus opinions from unknown readers online. Like 99.9% of these opinions I'm not an expert on virology. That said, I spent an almost unreasonable amount of time following this, listening to experts, trying to form an opinion on what is happening, long before most of you did. Not because I'm more clever or anything, it just happens that I live in a region which was close to the epicenter of this. I mentioned this many times before over the years in my blog, normally I would ignore Macro and focus on stock picking. But some events are so large you should not ignore them, this is such an event. I previously posted about how serious I thought this virus was in China. I just assumed that other developed countries closely monitored the situation and would sound the alarm if cases started to spread elsewhere. I was wrong. It's now clear that the virus must have spread for a long time in Italy before getting noticed. But I wasn't entirely wrong, in my post Feb 9th I wrote: "I really don't understand why we are 1% off all time high the S&P500 when we are staring this situation right in the eye." That doesn't mean though that my portfolio was hedged for this scenario. I have tried to stay in defensive stocks for quite some time now, but that was defensive in a general sense, not Covid-19 defensive. In the past three weeks the whole developed world has changed and with that stock markets has totally repriced the world economic outlook. Credit/default risk and significant rise in unemployment is a certainty. The question now is not if, but how bad it will get, before it gets better? Vaccines is everyone's big hope and that would be wonderful, but unrealistic to have before late this year. If we are locked down until a vaccine comes around then, this will be as bad as the depression in the 1920's in my opinion. My hope stands to a medicine which significantly reduces the symptoms and the deadliness (right now malaria medicine + zinc seems like the best candidate, with HIV medicines a good second). Such a medicine could potentially reduce symptoms and would enable the younger/healthier part of the population to dare to go back to work and a more normal life. I read that most countries are now giving their patients the malaria medicine (based on the results from China and Korea). Given that governments have to find a way to at least partially normalize this situation, I see such medicines as the base case scenario, where governments can within a month or so go out and proclaim that they have a positive effect. A more bullish scenario would be an even more effective medicine, making the disease harmless, which seems unlikely to me. Then there is the depression scenario, one has to at least have a plan to survive that as well. That scenario goes a bit outside of this blog though. It means buying physical gold (which I have done and potentially I will buy more), stock up on goods at home, and hope you are lucky still have a job with cash flow coming in. I will focus less on the depression scenario, such scenario is a bit to bleak and in my view, still unrealistic, at least at this point.
2nd Corona status check on my holdings
I need to redo my Corona virus status check from Feb 9th, since the one I did a month ago was discounting "only" a significant spread in China, not a world pandemic. So here we go again (press read more):