Valneva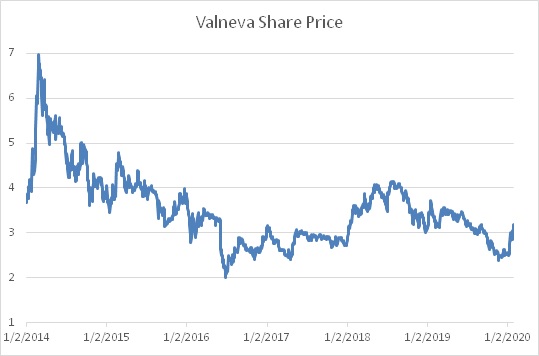 + Two strong cash generating assets, with the prime asset being Ixiaro, the only FDA approved vaccine for Japenese encephalitis
+ The only company attempting a Lyme disease vaccine, with a potential huge untapped market.
+ Strong family owner, which is the largest shareholder with 15%.
+ Interest from US investors who have taken a stake in the company above current market price.
– Not the best track record of successfully launching vaccines, several failures lately.
– In the hands of the big players to partner in development of vaccines, it is too costly to do by themselves.
– Small development pipeline means a lot hangs in the balance on very few trials and there is some doubts around the Lyme vaccine.
I already briefly introduced the company in a previous post, if you have not read that post, I urge you to start with the shorter pitch written there: See Valneva headline in this post
Below follows a bit deeper dive into the company (press Read More):